To book a class & purchase passes/memberships click on 'timetable' button to take you to our booking system Punchpass.
---
All classes live streamed via Zoom.US whilst in lockdown. Stay well everyone x
Class passes:
10 visit punchcard – $160.00
5 visit punchcard – $85.00
drop in visit  -$20.00
Unlimited Memberships                                            Online memberships:
(For face to face, online, content library)                          (For online classes & content library only)
Fortnightly unlimited – $75.00                                Fortnightly unlimited – $50.00
Monthly unlimited – $120.00                                   Monthly unlimited – $90.00
Family monthly unlimited – $200.00                    Family monthly unlimited – $170.00
GOLD membership (6mth) – $700.00                    GOLD membership (6mths) – $500.00
---
Spring Yoga Retreat @ Krishna's Otway Retreat Centre
Friday 5th – Sunday 7th November 2021
Join us for a weekend of nourishing vegetarian food, yoga, meditation. Focusing on the theme of 'renewal' and working with the Spring energies according to Traditional Chinese Medicine, this retreat will guide you through a variety of yoga styles and practises to cleanse and rejuvenate mind and body. Go to 'news' tab for info.
---
Yin Yoga
A slower paced practice where yoga postures are held for between two and five minutes, targeting the connective tissues; tendons, fascia and ligaments and activating the meridians. During this stillness Mindfulness techniques are woven into this deeply meditative practice.[/vc_column_text]
Ki Yoga
Ki Yoga and Yoga Therapeutics are a Japanese inspired active style that differs from other forms of yoga. It uses movement and strong breathing to release the meridian system, which underpins most eastern healing practices such as Acupuncture, Shiatsu and Tai Chi. The therapeutic nature of Ki Yoga is particularly effective for easing the aches, pains and worries of life.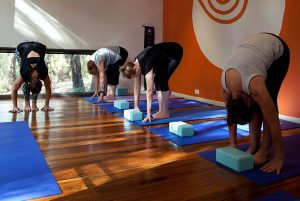 Hatha flow
With a focus on posture and correct alignment, our Hatha flow class incorporates sun salutation sequences and classic standing postures to invigorate and prepare the body for deeper explorations of yoga postures. Props are often used for support and  to deepen awareness of the body and relax the mind. This class concludes with a 10 minute Nidra relaxation.
  Connecting mind, body, breath
CLASSES
Or Contact Us for more info
Photography by Amber Parsons. All rights reserved.
Aireys Yoga would like to acknowledge and thank the traditional owners of the land The Wadawurrung, its elders past and present.