To book a class & purchase passes/memberships click on 'timetable' tab
---
5 days of yoga series – 29th nov – 3rd dec live streamed classes 7am daily 
Summer Yoga Retreat @ Krishna's Otway Retreat Centre
Friday 25th – Sunday 27th February 2022
Join us for a weekend of nourishing vegetarian food, yoga, meditation and creativity. In Traditional Chinese Medicine Summer is the time for heart energy, representing the outward expression of energy, joy, expansiveness, movement and creativity. It is the most yang season and is ruled by fire, when our energy is at its peak. This retreat will be a joyous combination of yoga, meditation and creative workshops. Prepare to move, laugh, create and tap into your energy.
---
Yin Yoga
A slower paced practice where yoga postures are held for between two and five minutes, targeting the connective tissues; tendons, fascia and ligaments and activating the meridians. During this stillness Mindfulness techniques are woven into this deeply meditative practice.[/vc_column_text]
Ki Yoga
Ki Yoga and Yoga Therapeutics are a Japanese inspired active style that differs from other forms of yoga. It uses movement and strong breathing to release the meridian system, which underpins most eastern healing practices such as Acupuncture, Shiatsu and Tai Chi. The therapeutic nature of Ki Yoga is particularly effective for easing the aches, pains and worries of life.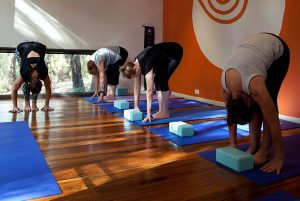 LYT yoga
LYT yoga is an intelligent yoga practice that works on core integration and functional movement patterns to improve posture and imbalances in the body. Prepare to move in a variety of ways, breathe and increase your strength and energy as your mind and body become LYT up!  Stand taller and move better in life with this sustainable and conscious yoga practice, bridging the gap between more performative yoga poses and functional, well aligned movements that honour individual bodies of all ages and capabilities. All classes conclude with a restorative yogic relaxation.
  Connecting mind, body, breath
CLASSES
Or Contact Us for more info
Photography by Amber Parsons. All rights reserved.
Aireys Yoga would like to acknowledge and thank the traditional owners of the land The Wadawurrung, its elders past and present.