Sun Feb 16 9am Yoga in the park is moving indoors to our pop up studio shop 1 top shops 26 great Ocean Rd Aireys
Yoga in the park continues every week end and public holiday until Easter 2020
Sat & Sun
9am – 10.00am
Cnr Inlet Cres & Reserve Rd Aireys Inlet if its raining heavily practice will move to shop 1 top shops 26 Great Ocean Rd Aireys Inlet
Mat hire & credit card facility available
---
Yoga classes that encourage you to honour your unique body and practice with awareness. At Aireys Yoga we encourage you to listen and respect your intuition, guiding and supporting you through the ancient practice of yoga to improve overall health and wellbeing.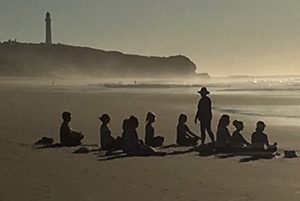 Ki Yoga
Ki Yoga and Yoga Therapeutics are a Japanese inspired active style that differs from other forms of yoga. It uses movement and strong breathing to release the meridian system, which underpins most eastern healing practices such as Acupuncture, Shiatsu and Tai Chi. The therapeutic nature of Ki Yoga is particularly effective for easing the aches, pains and worries of life.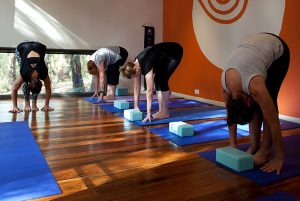 Hatha flow
With a focus on posture and correct alignment, our Hatha flow class incorporates sun salutation sequences and classic standing postures to invigorate and prepare the body for deeper explorations of yoga postures. Props are often used for support and  to deepen awareness of the body and relax the mind. This class concludes with a 10 minute Nidra relaxation.
Photography by Amber Parsons. All rights reserved.
Aireys Yoga would like to acknowledge and thank the traditional owners of the land The Wadawurrung, its elders past and present.